Press Office
106 South Street
Easton, MD  21601
410-822-ARTS (2787)
asteward@goeaston.net
---
FOR IMMEDIATE RELEASE (EASTON, MD-APRIL 17, 2018)
Academy Art Museum Opens Three New Exhibitions
On April 21, the Academy Art Museum will open three new exhibitions: AAM @ 60: The Diamond Exhibition, Elizabeth Casqueiro: Entrances and Exits, and New Photography: National Juried Exhibition. Docent Tours will be held on Wednesdays at 11 a.m. and begin at the Museum's Front Desk. The exhibitions will be on display through July 8, 2018.
Regarding AAM @ 60: The Diamond Exhibition, Museum Director Ben Simons states, "We have added steadily to our holdings over the past few decades, and this important anniversary year offers us a great opportunity to share with the public many of the treasures from the Museum's Permanent Collection. We pay tribute to the institution's history with the Diamond Exhibition and celebrate a bright and exciting course for the future."
Anke Van Wagenberg, Chief Curator, has selected artworks from among the over 1500 works in the Permanent Collection for two sequential exhibitions. The Diamond Exhibition will showcase a representative range of works including prints from Goya to Picasso, Rembrandt and Whistler, and selections of our holdings in other media including painting, photography and sculpture. A reception will be held on April 20, 5:30 to 7:00 p.m.
Elizabeth Casqueiro: Entrances and Exits is an exploration of masked identity in its many forms and purposes. Casqueiro is interested in how from an early age we acquire and shed identities as seamlessly as an accomplished stage actor or a fictional superhero. She writes, "Masters of the entrance and exit, our stage personas come and go in an ever-changing script." Her current body of work taps into the playful and entertaining origins of identity through a series of works involving the action hero, the stage actor, and what she calls "the cheesy plot." Through the melding of opacity and translucency, structure and fluidity, and figuration and abstraction, she alludes to identity's perpetual dance between order and chaos, exposure and concealment, and connection and disruption.
Elizabeth Casqueiro is a visual artist who was born in England and grew up in Portugal.  A resident of Washington DC, where she teaches part-time in the Master of Real Estate program at Georgetown University, she now devotes herself primarily to art, and works from her studios in Washington and Easton. After her fall solo gallery show in Portugal (2017), the Academy Art Museum is offering her a first solo museum exhibition in the United States. Elizabeth Casqueiro will present an Artist Talk at First Friday, May 4 at 5:30 p.m.
Photographic artists of all walks were invited to submit their latest works to a new national juried show at the Museum, New Photography: National Juried Exhibition. The exhibition aims to highlight the current state of photography across a broad spectrum. Artists have submitted all types of photographic works including digital, analog, alternative processes, etc. The show's juror, Sarah Stolfa, Chief Executive Officer and Artistic Director of the Philadelphia Photo Arts Center (PPAC), is a working fine-art photographer and educator with over eight years of experience in photography, education, curatorial work and digital lab creation and management. She has an MFA in Photography from Yale University School of Art. In addition to teaching at PPAC, Stolfa has taught at the Yale University Art Gallery, the Whitney Museum of American Art, the University of Delaware and Drexel University. She currently teaches at the University of Pennsylvania. The awards for the exhibition include a Best in Show of $1,000, a Second Prize of $500, and a Third Prize of $250. The Award Ceremony with the Juror will take place on Saturday, April 28 from 3 to 4:30 p.m.
The Academy Art Museum's exhibitions are generously supported by the Maryland State Arts Council, the Talbot County Arts Council and the Star-Democrat. Free Docent Tours are every Wednesday at 11 a.m. for all exhibitions.
For additional information, visit academyartmuseum.org or call the Museum at 410-822-2787.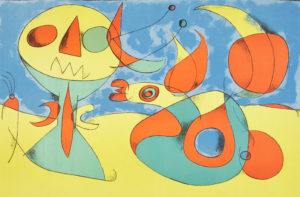 #1: Caption: Joan Miró, Oiseau Zéphyr, Color lithograph, 1960, AAM 2015.030.
#2: Caption: Elizabeth Casqueiro, Do Something Batman, 2017 Acrylic and oil on canvas, Collection of the Artist.
#3: Caption: Michael Joseph, A-lister & Sherie, 2016 (detail)W, Archival pigment print.