Instructor: Matthew Hillier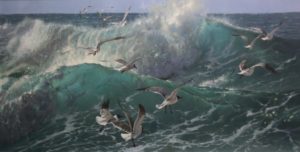 January 20 – February 27, 2018
10 a.m. – 2 p.m.
Cost: $210 Members, $252 Non-members
Click HERE to register.
---
Back by popular demand, Matthew is teaching a course on how to paint water, especially waves. The thing about water is that it is never the same. Whether it's how to show the light coming through the wave as it turns, the explosion of water as it crashes, or the bubbling foam as the spent wave settles, water is exciting and a challenge for the artist. If you have always wanted to paint the ocean, then this is the course for you. This class is for intermediate students (no beginners, please). Minimum 6, Maximum 12.
Dates:
January 20 - February 10, 2018
Time
10:00 am - 2:00 pm
Class Schedule:
Saturdays, 10 a.m. - 2 p.m.
Class Information:
Materials List

Ultramarine Blue
Burn't Sienna or Transparent Earth red
Alizarin crimson.

Titanium White

(Warms)
Transparent Orange
Transparent Earth Orange
Transparent Earth yellow
Cadmium Yellow Light
Cadmium yellow
Cadmium Red
Radiant red

(Cools)
Radiant Blue
Manganese Blue
Ultramarine Blue
Cobalt Blue(optional)

(Grays) Optional
Portland Gray
Torrit gray

Brushes.
Flats/ Filberts
Robert Simmons Signet,Rosemary (suggested makes)
8,6, 4,2

Rounds.
Princeton, (suggested) 2,0 for fine details

Mediums.

Gamsol
Solvent Free gel

Surfaces,
Canvas or boards

Sketchbook.