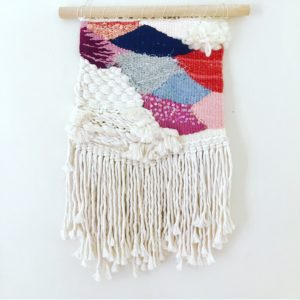 Instructor: Jenny Walton
greatbluefiber.com
Three-Day Workshop: May 7–9, 2019
Tuesday–Thursday, 10 a.m–1 p.m.
Cost: $120 Members, $144 Non-members
Yarn available to students in all color ways for $20
Click HERE to register.
---
Jenny Walton of Great Blue Fiber will teach students how to create a stylish and modern woven wall hanging on a loom. The following materials for the class will be provided: a wooden loom, a tapestry needle, warp thread, specialty roving fiber, and a dowel to hang your finished piece. Students will be asked to bring yarn in varying weights. If students wish to purchase yarn from the teacher that will be available in all color ways for a fee of $20 payable day of class. Each student will leave the class with a lovely wall hanging. See Jenny's work at www.greatbluefiber.com
Dates:
May 7 - May 9, 2019
Time
10:00 am - 1:00 pm
Class Schedule:
Thursday - Thursday, 10 a.m. - 1 p.m.
Class Information:
Yarn available to students in all color ways for $20