Celeste-Marie Bernier on Anna Murray Douglass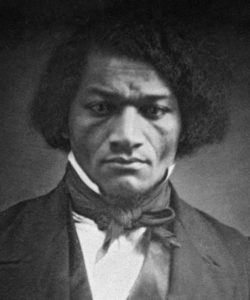 Wednesday, March 23, 6 p.m.
Presented by the Frederick Douglass Honor Society
Free
Registration suggested.
Join Celeste-Marie Bernier as she shares her research on the life and works of the Frederick Douglass family and the role of Anna Murray in the family's anti-slavery campaigns and activism. Bernier is completing a literary biography of Frederick Douglass for Yale University Press and finalizing the three-volume work, The Anna-Murray-Frederick Douglass Family Biography and Writings.
Bernier is a professor of United States and Atlantic Studies at the University of Edinburgh in Scotland and the author of over 20 published and books, including African American Visual Arts, Characters of Blood, Suffering and Sunset, Stick to the Skin, If I Survive, Living Parchments, and Back into the Battleground. Winner of a British Association for American Studies Book Prize and co-winner of a European Association for American Studies Book Prize, she has held visiting appointments and fellowships at Memphis, Harvard, Yale, Oxford, King's College London, University of California, Santa Barbara, the National Center for the Humanities in Durham, North Carolina, and the Obama Institute in Mainz, Germany. Previously Co-Editor-in-Chief for the Journal of American Studies published by Cambridge University Press, Bernier has been awarded a UK Philip Leverhulme Prize, UK Arts and Humanities Research Council Research and Leadership Fellowships, and US Terra Foundation for American Art Program and Publication Grants. In 2018, she was awarded a Citation by the Governor of Maryland "as an internationally respected scholar, author and world-renowned historian of African American Studies."
---
Date:
March 23
Time:
6:00 pm - 7:00 pm
Event Category: