Juneteenth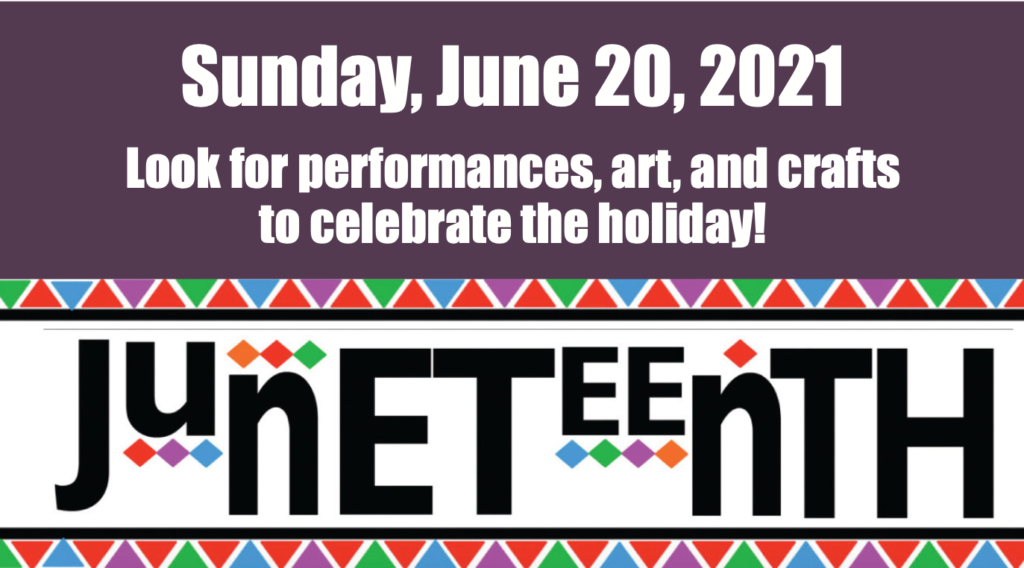 Juneteenth is a day of reflection, a day of renewal, a pride-filled day. It is a moment to appreciate the African American experience. It is inclusive of all races, ethnicities and nationalities. Juneteenth serves as a reference point from which to measure and appreciate the progress and contributions made by African Americans to our society.  The Juneteenth Celebration, now in its tenth year, grows larger every year. During the celebration, there are several opportunities to experience art and art performance though exhibitions, artisans, family art activities, music, and more. To learn more about the history of Juneteenth, click here.
Musical Acts
Alison Crockett
The voice of D.C. jazz singer Alison Crockett (Capitolbop.com) is soul dripping with generous helpings of jazz, gospel and blues. Taking the baton from divas of the present and past such as Rachelle Farrelle, Erykah Badu, Jill Scott, Donna Summer, Elis Regina, and Sarah Vaughn she forges a uniquely personal and singular musical vision. Michael West of "Citypaper" states about her 2018 album "Obrigada, focusing on Brazilian music," "It's easier to catch lightning in a bottle than to catch D.C. singer Alison Crockett's riveting, forceful command of the stage on a record. But Obrigada comes remarkably close…" Crockett has weaved a refreshing sound love of jazz, bossa nova, and soul that continues to highlight her fearlessness as a musical traveler boldly projecting her inimitable voice into the sonic future.
Julie Outrage
Julie O. aka Julie Outrage is a guitarist, singer-songwriter and percussion player that plays various genres ranging from and including: blues, rock, R&B, hip-hop, jazz and experimental. She was born in West Africa, spent several years living in Brooklyn and is based in Washington D.C.
In 2014, Julie Outrage was named The Deli Magazine's Best of NYC Emerging Artist. Her style has been called funk-rock with a jazz guitar influence, a feel encompassing hip hop inspired & spoken word lyrics.
In January 2021, Julie Outrage released her 5th self-produced single, "Slow Down" arranged and mixed by Jaz Williams (credits: Mac Miller, Kap G, Bone Thugs) featuring the horn section from Washington D.C. band, Aztec Sun. Slow Down, is available on all streaming platforms.
Destinee Edmonds
Destinee Edmonds is a multi-instrumentalist from Cambridge, MD and rising junior at CSD High School. At age 4, she began learning songs on piano and clarinet by ear. She currently sings and plays piano, guitar, bass guitar, trombone, all saxophones, clarinet, violin, cello, organ, oboe and percussion. Her other interests include poetry, painting, drawing, volunteering and dance.
Family Craft
Work on a community Juneteenth mural! The Museum will have lots of vinyl sheets gridded into rectangular sections and colorful acrylic paint on hand. Work alone or with friends and family to come up with a pattern or stamp out the words "Juneteenth" or "Freedom." We will be creating a huge vinyl "quilt" that will be displayed in the Museum's Plexiglas cube on our front lawn for much of the summer.
Norma Morgan: Enchanted World Tours
Free tours of the exhibition Norma Morgan: Enchanted World will be offered every 20 minutes to the hour starting at 11:40am with a final tour at 4pm.
Free COVID-19 Vaccinations
The Talbot County Board of Health will be providing COVID-19 Vaccinations from 11am – 2pm on the front lawn of the Museum.
Thank You to our Sponsors
Talbot Arts
Maryland State Arts Council
Bette Kenzie
Paris Foods
The Granville Fund of the Mid-Shore Community Foundation
Catherine McCoy
Beverly and Richard Tilghman
Previous Juneteenth Events: