OUR PHILOSOPHY
Mini Masters, a program of The Academy Art Museum, offers an Early Enrichment Program for children ages 2–4. Our curriculum and philosophy are based on the Smithsonian Early Enrichment Center's Museum Magic and Emergent Curriculum approach to learning (see www.seecstories.com). We have a mixed-age classroom that provides an environment for fostering community and encouraging developmental and academic milestones.
We introduce young children to new ideas through a thematic and inquiry-based approach to learning that emphasizes relationships and the ability to make meaningful connections. It teaches a basic life skill—how to learn—and focuses on strategies and techniques that can be applied to almost any encounter with the unknown. The focus is not on acquiring facts or information but rather on the process of learning through inquiry and sensory exploration of objects.  It is through this process that children are empowered to make ideas their own.
The rich resources of the Academy Art Museum offer a wonderful venue for teaching these sensory explorations. The resources come in many forms, from artwork to museum professionals. The focus might be a single piece of art within a collection, an entire exhibition, or a visiting artist or musician.
Children's literature, objects, and visual images are the key elements of almost every experience. Activities are planned to encourage discussion and increase vocabulary. The curriculum offers a wide range of possibilities and introduces, develops, and ties together individual skills in a meaningful way.
Mini Masters Academy offers the basics in early learning with a focus on the arts. Using a multi-sensory, child-centered and inquiry-based approach, we foster creative and independent thinking, self-expression, art appreciation, and a love of learning.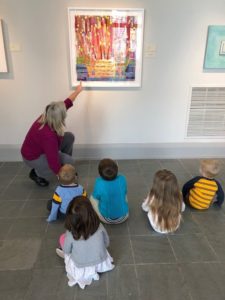 PROGRAM HIGHLIGHTS
Program Dates:    September 4, 2019 – May 21, 2020
Program Days:    2-day per week option:  Mon./Wed. OR Tues./Thurs
  4-day per week option:  Mon. thru Thurs.
Two-year olds may attend all 4 days
Program Times:    Morning Session 8:45 (doors open) – 12:00
  Afternoon Session 12:00 – 2:00
* Children do not have to be enrolled in the morning sessions to attend the afternoon sessions
Eligibility:            Children may attend when they turn 2
Children do not have to be toilet-trained
Class Size:             Ten (10) child limit in one class with 2 teachers
Multi-age classroom setting
Curriculum is based on the Smithsonian Early Enrichment Center "Museum Magic" (www.seecstories.com) and an Emergent Curriculum approach.
---
ENROLLMENT
Enrollment for the 2019 – 2020 school year is currently being accepted.
Enrollment remains open throughout the year if space is available.
Click HERE to receive an information/enrollment packet.
---
---
---
Mini Masters @ the Academy Art Museum school year begins September 4, 2019 and ends May 21, 2020.
---
---
---
MINI MASTERS SUMMER CAMPS!
Animals in Art
Ages 3 to 5
Instructor: Ann Hansen
Monday – Thursday, July 15 – 18
9 am – 12 pm (Children's Studio)
Cost: $125 Members; $150 Non-members
Click HERE to register.
Wiggle, wiggle…splash, splash! Come explore all things animal and create new animal art each day.  Many professional artists love to paint, draw, sculpt, and collage different kinds of animals. We will look at a few for inspiration and then make our own animal art, using a wide variety of mediums and art processes.
At the Beach and in the Ocean!
Ages 3 to 5
Instructor: Ann Hansen
Monday –Thursday, August 5 – 8
9:00 am–12:00 noon (Children's Studio)
Cost: $125 Member; $150 Non-member
Click HERE to register.
Sandcastles, sharks, waves, and water! This week children will create masterpieces of all things beach and ocean. From painting with sand to sculpting jeweled sandcastles, children will love exploring a wide variety of art meduims while making art objects that capture summertime fun!
---
QUESTIONS
Please contact Ann Hansen at minimasters@academyartmuseum.org.
---
Find us on Facebook!
MSDE Child Care Lic. #255007