REGISTRATION STARTS APRIL 1, 2021
Registration is opening on April 1st for the Mini Masters 2021-2022 school year! Please scroll down to view registration and tuition information and to print out all registration forms.
We require a non-refundable deposit of $80 payable to The Academy Art Museum as well as the completed Application for Enrollment in order to hold a space for your child. We do NOT require that the State Health, Emergency and Immunizations Forms be submitted at this time.
Please mail or drop off at the Museum's front desk your deposit and Registration Form in an envelope to the attention of: Mini Masters Registration.
Contact minimasters@academyartmuseum.org if you have any questions.
MINIS AT HOME NEWSLETTERS
Even though Mini Masters is not is session this year, the Academy Art Museum is dedicated to keeping you and your Minis curious and enthused. Click below to get a recommended reading list, learn a fun song, make your own artwork and more! Enjoy our weekly Mini Master Newsletters here or sent directly to your inbox.  Email minimasters@academyartmuseum.org to be added to the mailing list.
Minis Newsletter Issue 1: Squirrels and Acorns
Minis Newsletter Issue 2: Nature Portraits
Minis Newsletter Issue 3: My Family
Minis Newsletter Issue 4: Migration
Minis Newsletter Issue 5: Butterflies
Minis Newsletter Issue 6: Scarecrows
Minis Newsletter Issue 7: Bats
Minis Newsletter Issue 8: Leaves
Minis Newsletter Issue 9: Harvest
Minis Newsletter Issue 10: Hibernation
Minis Newsletter Issue 11: Gingerbread
Minis Newsletter Issue 12: Reindeer
Minis Newsletter Issue 13: Winter Solstice
Minis Newsletter Issue 14: Snow
Minis Newsletter Issue 15: Polar Bears
Minis Newsletter Issue 16: Penguins
Minis Newsletter Issue 17: Snowy Owls
Minis Newsletter Issue 18: Groundhog Day
Minis Newsletter Issue 19: Valentine's Day
Minis Newsletter Issue 20: Chinese New Year
Minis Newsletter Issue 21: Black History Month
Minis Newsletter Issue 22: Mars
Minis Newsletter Issue 23: Rain
Minis Newsletter Issue 24: Mud
Minis Newsletter Issue 25: Listening to Spring
Minis Newsletter Issue 26: Bees
Minis Newsletter Issue 27: Butterfly Lifecycle
Minis Newsletter Issue 28: Kites
Minis Newsletter Issue 29: Earth Day
Minis Newsletter Issue 30: Weeds
Minis Newsletter Issue 31: Pets
MY GROWN-UP AND ME
"My Grown-Up and Me" is a video series geared towards our Mini Masters community. Academy Art Museum's Director of Children's Education and Community Programs, Constance Del Nero, introduces artwork from the Museum's Permanent Collection and leads a related arts activity. It's perfect for the mini creative in your family.
OUR PHILOSOPHY
Mini Masters, a program of The Academy Art Museum, offers an Early Enrichment Program for children ages 2–4. Our museum-based curriculum blends exploration of art with basic principles of early learning. In addition to general monthly themes, we implement an emergent curriculum whereby topics are explored as they relate to children's interests. We have a mixed-age classroom that provides an environment for fostering community and encouraging developmental and academic milestones.
We introduce young children to new ideas through a thematic and inquiry-based approach to learning that emphasizes relationships and the ability to make meaningful connections. It teaches a basic life skill—how to learn—and focuses on strategies and techniques that can be applied to almost any encounter with the unknown. The focus is not on acquiring facts or information but rather on the process of learning through inquiry and sensory exploration of objects.  It is through this process that children are empowered to make ideas their own.
The rich resources of the Academy Art Museum offer a wonderful venue for teaching these sensory explorations. The resources come in many forms, from artwork to museum professionals. The focus might be a single piece of art within a collection, an entire exhibition, or a visiting artist or musician.
Children's literature, objects, and visual images are the key elements of almost every experience. Activities are planned to encourage discussion and increase vocabulary. The curriculum offers a wide range of possibilities and introduces, develops, and ties together individual skills in a meaningful way.
Mini Masters Academy offers the basics in early learning with a focus on the arts. Using a multi-sensory, child-centered and inquiry-based approach, we foster creative and independent thinking, self-expression, art appreciation, and a love of learning.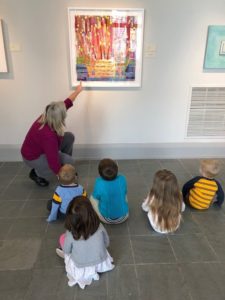 PROGRAM HIGHLIGHTS
Program Dates:        September 13, 2021 – May 19, 2022
Program Days:  
2-day per week option:  Mon./Wed. OR Tues./Thurs.
4-day per week option:  Mon. thru Thurs.*
* Two-year olds may attend all 4 days
Program Times:
Morning Session 8:45 (doors open) – 12:00
Eligibility: Children must be 2 by January 1st to attend the program. Rolling admission for 2 – 4 years olds until January 1st if there is availability.
* All children enrolling after the start of the school year in September will be assessed on a case by case basis to determine readiness.
* Children do not have to be toilet-trained
Class Size:                  Eight (8) child limit with 2 teachers. Multi-age classroom setting
---
ENROLLMENT
Enrollment for the 2021 – 2022 school year is currently being accepted.
Call or email the Academy Art Museum at (410) 822- 2787 or minimasters@academyartmuseum.org for questions or to set up a visit day. Registration and tuition information available in the links below.
---
---
---
ENROLLMENT FORMS
---
Find us on Facebook!
MSDE Child Care License #255007